Health Service Chief Executive
Dr Anthony Brown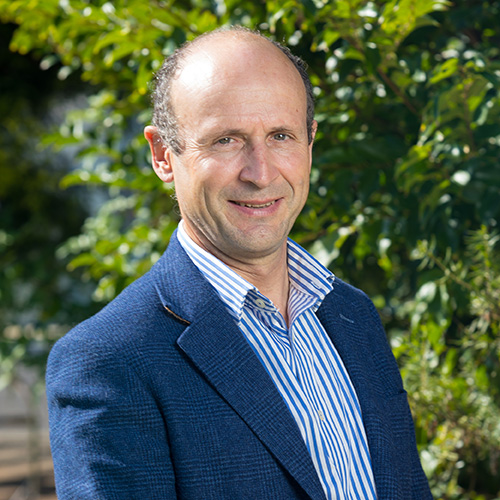 Dr Anthony Brown
Dr Anthony Brown joined South West Hospital and Health Service (South West HHS) in August 2021. Previous to this he practiced as a rural generalist doctor for more than 30 years.
Anthony is a highly regarded senior executive with outstanding health sector knowledge and brings a wealth of experience in delivering quality healthcare. He has significant skills in primary health care, in Queensland, Victoria and the Northern Territory.
Throughout his career he has improved access to care in the rural and remote communities. He has done this by using his highly developed skills in strategy, collaboration and advocacy to build trusting relationships that deliver necessary outcomes. He has a genuine passion and commitment to address the gap in health outcomes for remote and Aboriginal and Torres Strait Islander peoples.
Executive Director
Finance, Infrastructure and Corporate Services
Linda Patmore
Linda joined the South West in May 2023. She brings to the great South West HHS 22 years' experience in senior roles within the Queensland public health system having had a variety of leadership, management, and technical skills across the full range of financial services.

Linda has worked in several other Hospital and Health Services including Metro North and South, Clinical and Statewide Services, and most recently as the Director, Financial Business Partnering Finance Branch for the Department of Health (former Health Support Queensland and eHealth).
Her extensive experience at these organisations includes key activities in departmental and hospital funding, activity reporting, meeting KPIs and financial governance, compliance and assurance.
Executive Director
Medical Services and Clinical Governance
Dr Debra Tennett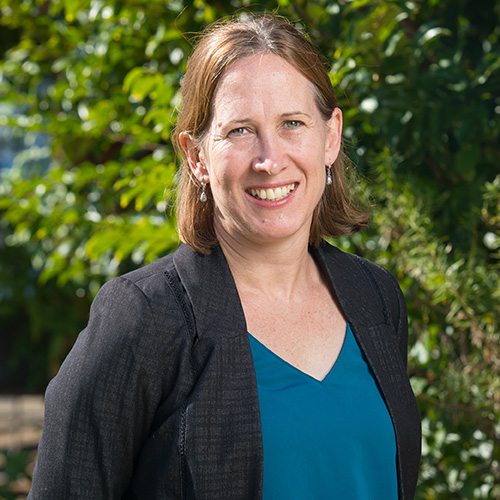 Dr Deb Tennett
Dr Debra (Deb) joined the South West HHS in 2021. Deb has extensive rural experience, having previously worked in Tasmania, Kingaroy, Tara, Miles and, most recently, at Gympie Hospital.
Deb is passionate about delivering the best healthcare to our rural and remote communities. She's committed to:
providing compassionate care
striving for excellence
doing our best to deliver person-centred care
ensuring the best health outcomes for South West communities.
Deb is currently completing a Masters of Health Management and holds the following:
a Fellowship in Advanced Rural General Practice (FARGP)
a Fellowship with the Australian College of Rural and Remote Medicine
Advanced Rural Skills Training in Anaesthesia and Obstetrics
a Masters of Public Health and Tropical Medicine.
Executive Director
Nursing and Midwifery Services
Chris Small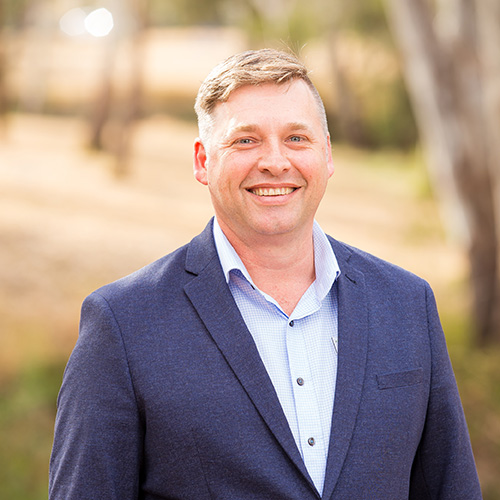 Chris Small
Chris joined the Executive Leadership Team in 2009. Previous to this he was the Director of Nursing and Facility Manager of Mitchell Multipurpose Health Service from 2001.
Chris holds the function of the Chief Operating Officer for South West HHS facilities and as the Executive Director Nursing and Midwifery Services provides professional leadership for all nurses and midwives for the HHS .
Chris is a passionate rural and remote nurse. He has dedicated his time in the South West to improving the nursing and midwifery profession,
improving facility design and person centred services that support our team's role in the consumer's health journey.
Hospital trained before achieving a Bachelor of Nursing, Chris holds 4 Graduate Certificates and has completed a Masters in Business Administration.
Chris is driven to:
improve person-centred care
improve access to services
applying improvement science to ensure that services are codesigned with consumers to meet the highest quality.
Executive Director, People and Culture
Katie Eckersley
Katie joined South West HHS in October 2022. She brings significant leadership experience working in organisations with a focus on enabling the delivery of exceptional health care and service performance.
Katie is a dedicated leader focused on enabling performance and continuous improvement with expertise in:
strategy development
operational execution
workforce and leadership development
managing complex change.
Katie is committed to meaningful stakeholder engagement and collaboration with an ability to create and strengthen positive and effective teaming environments.
An experienced leader, Katie:
supports the achievement of organisational and service key performance indicators
strengthens workforce and stakeholder engagement
builds collaborative processes and shared success.
Executive Director
Primary and Community Care
Rebecca Greenway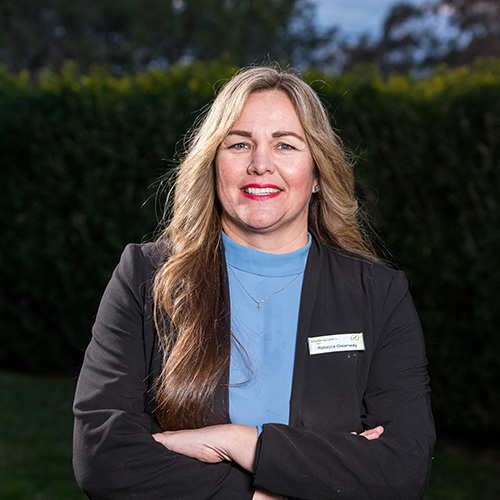 Rebecca Greenway
Rebecca has a passion for rural and remote nursing having lived and worked in these areas for over twenty years.
Growing up on a sheep and cattle property in the Augathella District, and being educated through the School of Distance Education in conjunction with School of The Air Charleville, the welfare and sustainability of rural communities has always been a priority and passion for Rebecca.
The untimely death of her Father, from a potentially preventable condition, has inspired her to build a career in health, and ensure the health and wellbeing of rural people, is equitable and contemporary.
Rebecca has held various nursing positions across the South West including the Director of Nursing at Morven and Augathella and more recently, the Service Director of Primary and Community Care in Charleville.
Rebecca also enjoyed a sabbatical in the United Kingdom, working in stem cell transplant at the University College Hospital in London and as a Medic in the Shetland Islands.
Most recently, Rebecca has performed the role of Health Incident Controller for the South West HHS. This role has been pivotal in managing both the strategic and operational response for Covid-19 in the South West Region.
A/Executive Director, Allied Health
Leigh Burton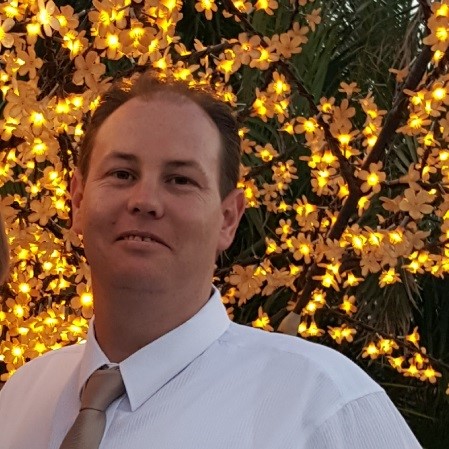 Leigh Burton
Leigh is a highly experienced Physiotherapist who has spent the majority of his career focussed on delivering and improving care to Rural communities across Queensland, having worked both clinically and in management roles across 4 Rural & Remote HHSs.
With extensive experience across the care continuum from acute and sub-acute care to chronic disease management and Aged Care, he has great knowledge of legislation, policy and contemporary governance to support Allied Health Clinicians deliver safe and effective care to our communities.
Leigh is also a Board Director with Services for Australian Rural & Remote Allied Health (SARRAH) and has spent much of the past 6 years working to develop and implement sustainable workforce models. In 2019 Leigh completed a Fellowship in Heathcare Improvement and this has fuelled his passion for thinking outside the box to improve healthcare quality, safety and equity for our communities.
As the Allied Health professional lead for South West HHS, Leigh is committed to ongoing professional development, collaboration with our community providers and consumers, and empowering Allied Health clinicians to be at the cutting edge of health service delivery.
Chief Information Officer
Helen Murray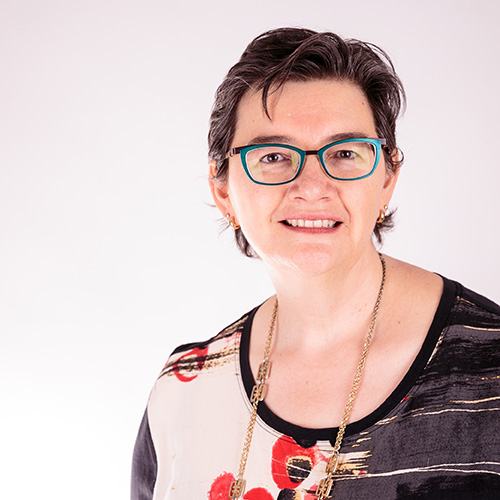 Helen Murray
Helen has had a passion for all things health and IT for over 25 years. With a solid track record in delivery from her first project role implementing HBCIS through to delivering innovative technologies in rural and remote Queensland.
Helen led the highly successful, 'The Viewer' program which has won awards such as the 2015 Excellence in eGovernment Award for the Gov2.0 category, 2013 and 2014 Australia Day Award, and 2012 Queensland iAwards State Merit Recipient.
As one of the founding members of the National E-Health Transition Authority (now Australian Digital Health Agency), Helen was instrumental in establishing many of the key building blocks necessary for My Health Record and has held senior roles in private industry delivering some of Australia and New Zealand's first nurse-led triage call centres after spending several years with NHS Scotland.
In recognition of her commitment to better healthcare through innovative technology she was the recipient of the 2011 Women in Technology Professional Award and in 2014 Women in Technology Outstanding ICT Achievement award and named as the Women in Technology ICT Ambassador for 2014.
Originally from the Darling Downs, Helen is a practising Registered Nurse of over 30 years with both hospital-based and tertiary qualifications, including a Bachelor of Nursing and a Graduate Certificate of Information Technology. Helen brings extensive experience as a Company Director serving on several not-for-profit Boards and is a Graduate of the Australian Institute of Company Directors.